Music tourism is a fact nowadays. Cities with music tradition are hubs of such a tourism: Italian cities, Paris, Moscow or Saint Petersburg are well established on the map. Today I would like to recommend a new gem destination on the musical tourism map that is relatively easy to be reached and is full of unexpected surprises: Bucharest – capital city of Romania.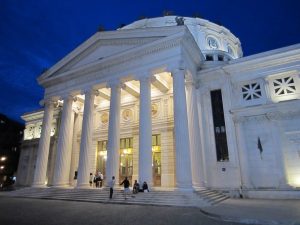 Located at the cross roads between East and Western Europe, shifted and shaped by history between the big European powers (France, Germany, Austria, Russia and Turkey) the Romanian cultural spirit developed a very sensitive emotional ground that resonates extremely well with the arts and music.
Composers, conductors, opera singers from Romania have clearly left a seal on the universal music scene.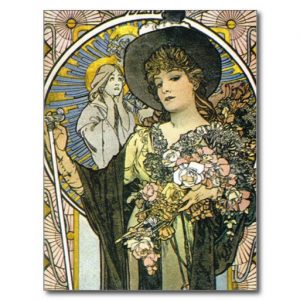 The first Tosca
Did you know that back to January 14, 1900, the first singer of Puccini's Tosca was the Romanian soprano Hariclea Darclée? The Hariclea Darclée Festival and International Voice Competition was started in 1995 and is held every two years in her native town Brăila, by the Danube, about 200 km away from Bucharest. Connected with this festival as its initiator is another world famous operatic soprano Mariana Nicolesco.
As one of the emblematic voices of the international artist scene, Mariana Nicolesco returned to Romania in 1991 and gave her first concerts at the
Romanian Athenaeum
.
Romanian Athenaeum – the national landmark
This concert hall is a real music temple and has developed into a symbol and landmark of Bucharest and Romania. Designed and built in 1888 by the French architect Albert Galleron, nowadays is the home of the "George Enescu" Philharmonic and of the George Enescu annual international music festival.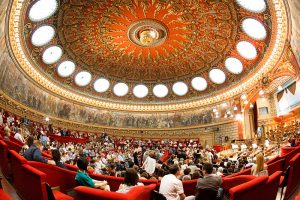 The quality of the philharmonic concerts is very high and the prices of the tickets are between 4 and 15 euro.
George Enescu Festival
George Enescu Festival is one of Europe's best classical music festivals and is organized every two years since 1958. The next edition of the festival is planned between 1-28 September 2013. It is named and held in honour of Romania's greatest composer, George Enescu, great violinist and composer, a distinguished conductor, an accomplished pianist and a famous violin teacher who numbered among his pupils Christian Ferras, Arthur Grumiaux and Yehudi Menuhin. His biographer Paul Banks says that "his musical memory was phenomenal, a fact that contributed to the loss of some of his own works which he composed but never wrote down.".
The Romanian Rhapsody no. 1 is the base translation of the Romanian spirit into music, making Enescu's music a national emblem. You can listen to it in the video bellow. The conductor is Sergiu Celibidache. 
The Cantacuzino Palace – a Parisian dream
If in Bucharest, one needs to visit the George Enescu Memorial Museum hosted in the Cantacuzino Palace designed by architect Berindey in 1900 in a mix of French Academic style with Art Nouveau. Apart from the grandeur of the palace, the exhibition displays Enescu's first violin that he received it at age 4.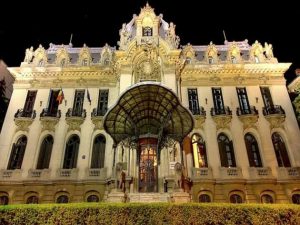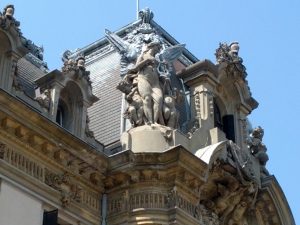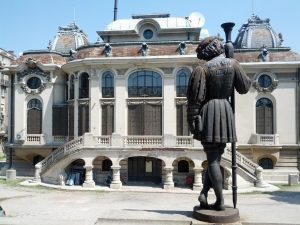 The good old world still alive
The Romanian National Opera is another bastion of culture and home to top class lyric opera as well as ballet performances. It is a place to dream and be enchanted. Every time I come to Bucharest I am so much looking forward assisting to a show. The night out at the Romanian National Opera is charming also because there is a touch of the old world. People still wear their best clothes, women in evening dresses, shawls, fans, men in suits, white shirt and tie, discreet perfumes and at the end of the show long clapping times and flowers offered to the main artists.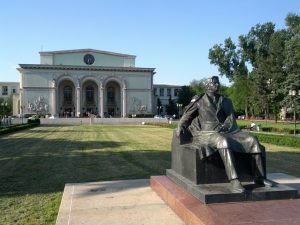 Connoisseurs say that probably the best acoustics to enjoy music in Bucharest are in the Radio Hall (Sala Radio). This year it hosted the concert of the Romanian countertenor Cezar Ouatu – a beautiful voice that conquered the hearts of music lovers from Milan to Saint Petersburg.
The Diva
But probably the greatest of the music divas is the world famous soprano Angela Gheorghiu. There is something fascinating about her. Her undoubtful music talent and crystal voice, Angela Gheorghiu maintains her genuine, human side, promoting the real values Romania and the Romanian nation offer as a true and honest ambassador of her native land.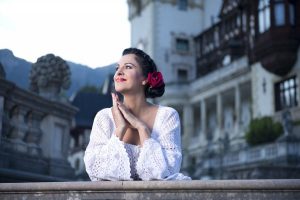 I remember seeing her for the first time in 1994 in London, in a live broadcast from the Royal Opera House. Over 10,000 people gathered in Covent Garden to listen and see her perform in "La Traviata". People were listening to her unmoved, like marble statues where the only thing that was vibrating were their hearts.
The magician of pianos
Concert pianist Radu Lupu is a brand name and a must to listen in case you get a chance. Some say that he "transcends any technical or musical issues and creates a certain magic that he conjures up in the air in the concert hall. He manages to create a very intimate atmosphere". That's why it is very difficult to capture that sparkle by listening to him in a recording. The experience needs to be in a concert hall. 
A trip to the music scene of Bucharest will turn to be the key to discover the extreme sensibility and wide palate of artistic expression of a Latin nation that will embrace you from at first glance. If you crave for some cultural and emotional "free hugs", you can already start booking your trip.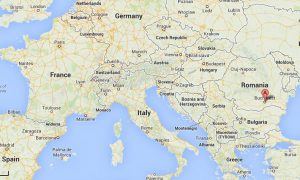 Interesting Links
George Enescu annual international music festival: http://www.festivalenescu.ro/
Hariclea Darclée Festival: http://www.darclee.com/
George Enescu Philharmonic: http://fge.org.ro/en.html
Romanian National Opera: http://onb.operanb.ro
Angela Gheorghiu personal page: http://www.angelagheorghiu.com