This article unveils a hidden secret of Dublin: it tells you where you can see and touch 800 year old mummies in underground vaults. So you better get prepared and keep on reading.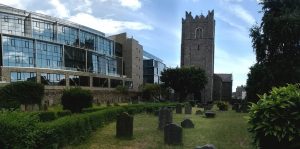 Dublin is a city full of surprises! On the northern side of the river Liffey, close to Smithfield and the Four Courts lies the simple and little inviting facade of St. Michan's Church, Dublin's oldest north side parish church, founded in 1095. It is said that Handel used to practice on this church's organ for the first performance of "Messiah" that happened in Dublin on the 13th of April 1742. 
Due to changes of styles and fashion as well as some rich patrons, the church changed outlook in 1825 except the 5 underground vaults used to bury the wealthy who could be granted a fast lane, queue skipping lane to Heavens. The constant dry atmosphere (helped the porous lime stone and the earth with remains of an old oak forest, high in tannic acid) helped creating an environment good for mummification.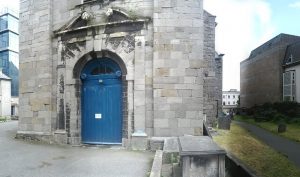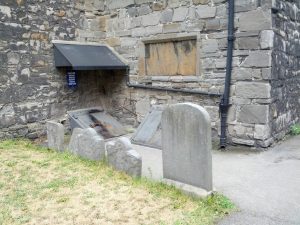 How were the mummies discovered? 
Along the vaults there are lateral cells where the family coffins are stacked one upon the other. One day few of the lower ones broke and … voila! 4 mummies of different ages were discovered and displayed for the curious Victorian public and today's that keeps wondering of this miracle. It is said that even Bram Stoker, author of world famous novel "Dracula" visited the mummies in the company of his family. 
Today the visits are guided by a super funny and smart guide whose delivery is close to a theatrical performance mix with a light history lecture and loads of excitement. With a serious face and amazing wit he engages even the most passive of the visitors creating an ad-hoc happening in the creepiest place of Dublin. Bravo!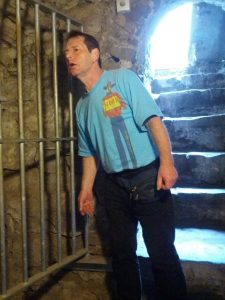 The Four Mummies
The four mummies are displayed in the second, smaller vault out of the 5 existing ones. 
A 300 year old nun with an amazingly cured manicure, a thief who's hand and legs were chopped, an anonymous body and the oldest is 800 years also referred to as the Crusader. Because he was very tall (2 meters) that for those times he must have been a giant, his legs were chopped and placed under his body for the simple reason to fit his coffin. Tradition says that touching/shaking hands with the Crusader will bring you good luck. In fact it is the only place on earth where you can touch a mummie. 
If you plan to do it yourself, the church and vaults are following this timetable:
Monday – Friday 
10-12.45 and 14-16.30 (17 March – 31 October), 12.30-15.30 (1 November – 16 March)
Saturday (all year) 
10-12.45
Address: St. Michan's Church, Church Street, Dublin 7, Ireland