Northern Ireland is famous for it's accent that to me it sounds half way between Irish and Scottish. One of the words used here is "wee" meaning "little" and it goes practically with everything, including a "wee trip" outside Belfast.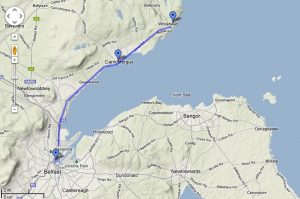 If it happens to be in Belfast hop on the train or in a car and follow the coast heading north to Carrickfergus and Whitehead. 
The Rock of Fergus
Leaving Belfast, at only 18 km away you'll get to the little town of Carrickfergus (meaning "the rock of Fergus" remembering the place where the ship of Fergus hit the volcanic rock of the Ulster shores on his way back from Scotland where he wanted to set-up a kingdom in the Vth-VIth centuries). 
Nowadays the place is remembered for the old Irish song with the same name, its castle and the title of Carrickfergus Baron that was bestowed upon Prince William on his wedding day in 2011. 
Carrickfergus Castle is a Norman castle built in 1177 and today is one of the best preserved medieval castles in Ireland. 
Victorian Taste
Marking the edge of the Belfast bay, Whitehead is a "wee" seaside town also known as the "town with no streets". In this place the streets names don't bear the "street" suffix. Established as a seaside holiday destination during Victorian and Edwardian times, the place is dotted with little pleasurable attractions: the old "wee railway station", the sea front houses and walk, the yacht club, the Blackhead lighthouse. 
The visit wouldn't be complete without a cup of tea, coffee or an Irish breakfast in a surprising "wee" Old Tea House with original Arts and Crafts features (the woodwork, the stain glass windows), old porcelain and yummy cakes (1 Kings Road, Whitehead, Co. Antrim).