What and where is it? Tashkent is the capital city of Uzbekistan, one of the largest countries in Central Asia, a former republic of the USSR. It is situated on the old "Silk Road" that connected China to Europe.
Why go there?
Amazing architecture, decorative arts, music, fresh organic fruit and vedge and above all for the Uzbek people, one of the most hospitable and welcoming I have ever met.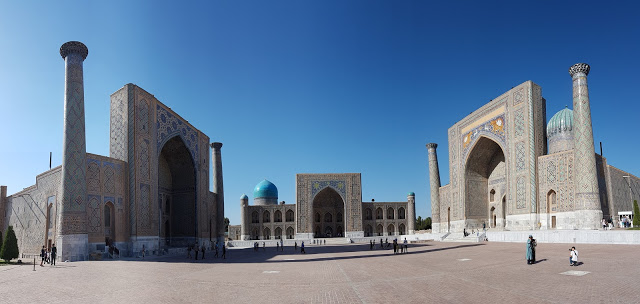 When to go?
Early autumn (September) may be the best time as temperatures are going as high as +30C and the markets are packed with the best fruits and vegetables, spices and nuts. Summers tend to be extremely hot and winters extremely cold. This trip happened on September 2016 and contains tips and experiences that may change in the future. But definitely, Uzbekistan is opening more and more towards the world and travel throughout the country becomes easier.
Border Customs
Foreigners must complete a Customs Declaration in duplicate on entering Uzbekistan. Customs officials will review and stamp both copies. One will be retained by the Customs Authority, you keep the other and present it when you leave the country. Make sure that you declare every single coin you have. Failing that may be a cause for long discussions you may want avoiding.
Who Wants to be Millionaire? 
If you do, then this is your time to swim in cash. Uzbekistan is a cash country at least for the traveler. ATMs are few and far between and if they work you will always lose not because of the commission but of the official exchange rate that is used. At the time of our visit the official exchange rate for the dollar was 3,200 Soms while the black market paid 6,200 Soms.
If you are coming from the USA this is your paradise as the US Dollar is on everyone's lips. It is easy to deal and pay in USD everywhere. Alternatively Euros and Russian Rubles are welcome too. You can change them for Uzbek Soms on the black market (in the street, bazaars, hotels, shops). Having lived the black market exchange experience in Eastern Europe I was a bit nervous about changing money in the street so opted to do it with the hotel management and count the money in a friendly environment. Counting the money takes time as for a single 50 euro bank note you might end with two bricks of paper money of 5,000 or 1,000 Soms. In no time your money counting skills will improve. Bring a small rucksack to carry your cash with you.
Arty Metro & the Full Inspection
Transport in Tashkent is well organised. The fastest way to move around is metro though it may put you down for its double filter of police control at every station where you will need to present your passport and bags for full inspection. There is absolutely no way you can take photos underground as the security is high and police planted everywhere. The reason for this are 6 car bombs that killed 16 people and injured 120 on February 1999. The pics related to the Tashkent metro are from the Internet.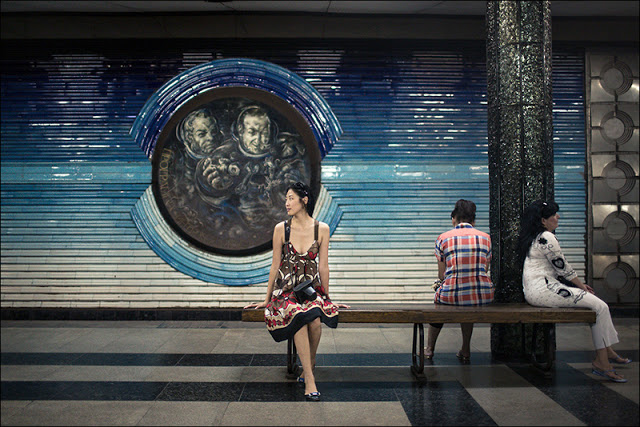 Metro stations are impressive with Soviet and national design all over while metro trains are the Soviet standard of the former USSR. Once you get through the security check buy your blue token 1,200 Soms (6 cents) and make your way through the gates to the platforms. My favourite metro station is "Космонавтлар" (Cosmonauts – in English) that depicts in beautiful ceramic medallions of portraits of the first Soviet cosmonauts (including Yuri Gagarin and Valentina Tereshkova).
A KitCat for a Train Ticket
Buying a train ticket in Tashkent railway station is an experience in itself. It is an adventure for what you need to budget some generous time. First you need to pass through the security and passport control. Then you are allowed to get into the ticketing hall where there are plenty of desks but with no particular order or destination. Some locals jump the queue and when you eventually got to speak to your lady you will get either a big "niet" or a finger pointed to another desk. And this game goes on until you get to know several employees and they are by now accustomed seeing you around.
Then someone will "adopt" you and join your round dance from a desk to another. When you will have your tickets your newly acquired "godmother" will tell you that she loves chocolates very much. If you still did not get the hint, she will point to the vending machine in the corner stocked with KitKat and Bounty bars. :-))) Obviously by now you are glad to give this episode a happy-sweet end.
It is interesting to note that as in any post-communist country, the local made chocolates with real cocoa, nuts or fillings are put in a dense cone of shadow by the multinational food companies' sweets that don't get even closer to the quality of the local products but they shine with the glam of Western marketing.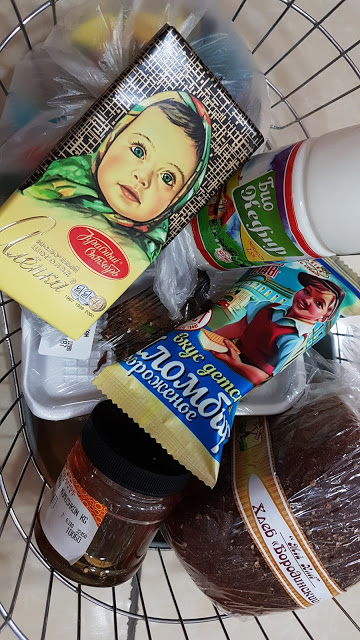 Meet the Locals!
Markets are probably one of the best places to meet, greet and know Uzbek people. The Uzbeks are open, extremely friendly and chatty, calm and warm hearted, always ready to offer you a wide and sincere smile. I never founded myself so welcomed than in this country. People are not shy at all. They are happy to pose for you and start to know you. I was impressed how everyone no matter how young or old was greeting us with an honest "hello!" across the entire country.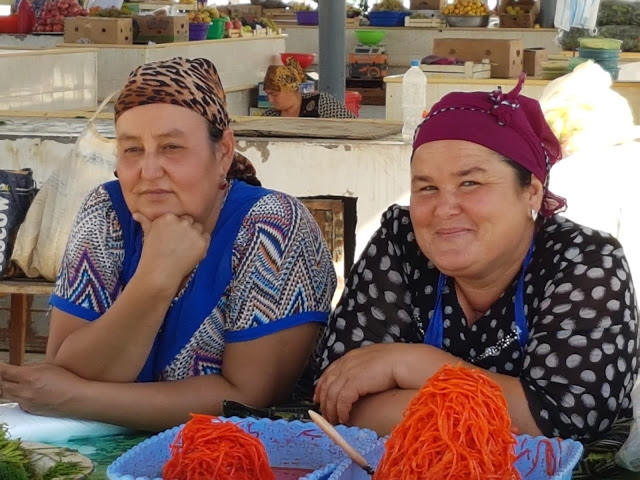 On summer and autumn months markets are packed with top class vedge and fruits, fresh herbs, spices and teas, bread, sweets, nuts and dried fruits and other shoppers. All in all it is a free show not to be missed. Each Uzbek market is a heart of the country, thus making Uzbekistan the country of endless hearts.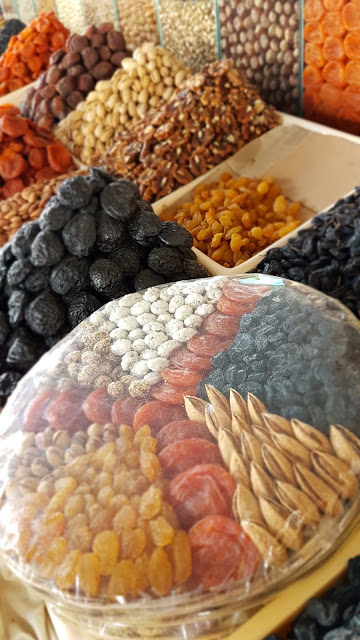 Unfortunately, in the enthusiasm of sanitizing and cleaning the historic city centers of the Uzbek towns to please the tourists, local authorities moved the markets outside the city walls and in this way removing literally the heart of the old towns (Bukhara and Shahrisabz).
Icebreaking Tip
A few bobs of Russian and/or Turkish language comes in super handy in making new friends. In addition, we carried a
pocket Polaroid photo printer
that helped us give away instant "presents" and engage further with locals.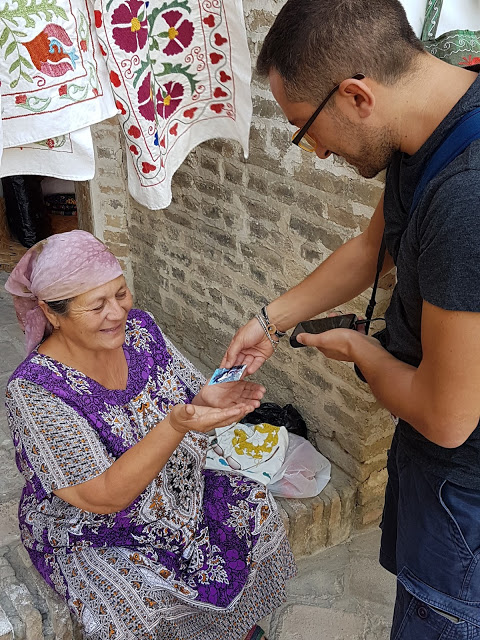 Uzbek Food for Hulks
National Food (1 Gafur Gulom Street, Metro Gafur Gulom) is probably the best restaurant in Tashkent to get acquainted to the Uzbek food on your very first day in the country. It seems that most of the iconic dishes are prepared at the entrance in large cauldrons. This creates a strong visual impact.
Soon you will realize that Uzbek food was designed for hulks who move mountains and burn thousands of calories. In spite of this reality, we rarely saw obese people. Apart the sweet cakes from breakfast time, sugary food doesn't pop up on the Uzbek tables. The national dish is called "plov" – a sort of (pilaf) rice with vegetables and topped with cow meat that often came with fat. Mains cover sheep, cow and horse meat, some boiled vegetables, tortellini-like pasta filled with meat, sausages and more grilled meat. Soups are rich in noodles and meat. Bread is a piece of art and should be enjoyed as it is at any time of the day. Bread in Bukhara was one of the best breads I tasted in the world!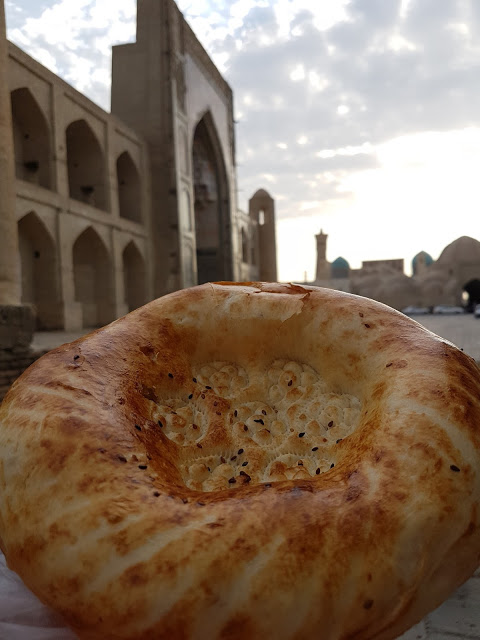 Wash down your culinary feast with black or green tea always poured from blue ceramic teapots into handy bowls. Alcohol is not present on the table. The wine we tasted is slightly sweet for Western palates and for the meaty dishes.